My name is Jake, I'm studying to become a high school art teacher, I'm 24, and I'm openly gay. (and proud of it!) I live in the New York city area, and I go to college! I'm currently on my final year, and I love helping people and hanging out with my boyfriend and my friends. Currently, I'm also working on a game called Angels Don't Die, made in RPG Maker MV. More info on that later, but it's going to be a dungeon crawling game with a focus on gay romance. Look forward to it sometime in the future.

I use he/him pronouns, and I've been doing art seriously for about 10 years. I specialize in digital art, particularly using Clip Paint Studio, and I have experience using Photoshop. (around 6 years) I also have some experience in life drawing and animation, although it's not my main focus. I also love traditional art: I've been working with Copic markers since I was 12, and I love using colored pencils. (which has been a recent interest of mine!) Most of my traditonal art is mixed-media, since I always try and work with many different mediums to create a more "finished" look.

My art is inspired by many things. My dreams, some of my major artistic influences, and the experiences I have all inform my art style. My art is meant to be dreamy, trippy, and surreal; I also use elements of glitch art in my work. I hope that you get some joy and inspiration out of seeing my art.

I also practice Capoeira, and it's a huge and important part of my life. At the moment, I'm on the green yellow corda, and I've been training for about 3 years!. I hope to keep training for as long as I can. My nickname is Seguro (because, my name is Jake, leading to Jake from State Farm, and the term for insurance is seguro.), and I think it's a great nickname. I study in NY 3 times a week, and I sometimes go to events with my group. I'm a beginner for sure, but I try my best!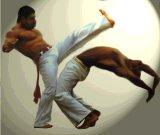 I'm a huge, HUGE fan of music and video games as well! I have a RateyourMusic account where I rate some of my favorite albums: you can check it out here. If you want an idea of my music taste: here are some of my all time favorite albums!
And that's it for my about page! Thank you for reading, and hopefully you'll find some interesting links and pieces of art in my humble little site. Have a great day, and stay stafe. If you want updates on my life and my art, you can follow me on Twitter or Instagram, they are linked on the front page!